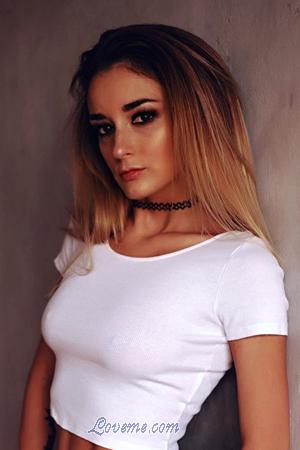 ID: 180822
Elena
Russia
City:
Moscow
Age:
27
Zodiac:
Pisces
,
Goat
Weight:
110lb, 50kg
Height:
5'7", 170cm
Eye Color:
Brown
Hair Color:
Blonde
Marital Status:
Divorced
Children:
None
Religion:
Atheist
Smoker:
No
Drinker:
No
Education:
University
Company:
Sales Company
Job Title:
Management Organization
Sports:
Fitness
Hobbies:
Traveling, music, photography, sports
English:
fair
Languages:
Russian (native)
Self Description: I consider myself an optimistic person, I am calm, peaceful and romantic. I'm looking for a person with whom we will experience a real sense of happiness together. I am gentle, caring, I like to make pleasant surprises, romantic dates for my man. I will be happy if there is a man next to me who will also want to do something for me, will love and care for me. In my opinion, two people who love each other, appreciate and protect each other, will certainly be happy together. I have a good sense of humor, I like it when people around me are happy. I always try to see good in every situation and believe in the best. I am a womanly, sensitive lady who believes in love, a full-fledged, strong family. I want to become a loving, caring and very affectionate wife for my future person. I decided to find my man here and I very much hope that soon we will meet that special, single man and we will create our world of happiness and comfort.
Comments: The most important thing between us is love, tender and trembling feelings for each other. I think that there is nothing more important than what is inside, our feelings and emotions to each other are very important. For me, love has no boundaries, I'm not looking for a specific person. Each person is special, but for each of us his own special person is meant, I'm looking for that special man who will make me happy, every day he will pamper me with his care and attention, in my opinion, only tenderness, care, caress and attention from men, can make a woman happy, I'm sure that every woman will agree with me.